Spring 2014
Spring has Sprung! (Contests)
Oekaki Contests
Rules
- Entry limits are listed below
- IF FOR ANY REASON you can't get the oekaki to work on your computer you ARE free to make a drawing and link it in the comments below. You MUST state that you could not use the oekaki and that it is your entry instead. Contest limits still apply regardless of submission method.
- Don't forget to check the FAQ section in the Oekaki menu or ask one of the Mods about getting Java to stop blocking the Oekaki! It CAN be done. :D
-
Both Oekaki contests end on the 17th.
This is so that I have time to recreate your designs for this years Easter event!
Color an Egg!
This year we will have an Editable Oekaki egg just for you to color. Get crazy and creative and make the prettiest egg your imagination can come up with!
You may enter this contest
two
times.
Color your egg here!
-Entries-
CoolCool9090
- ~~~ -
Design the Event Prizes
Using the Editable Oekaki linked below you can design event end prizes! Once any user completes this years easter event they will win YOUR entry as a prize! All items will be made into site items by Alina_Mau. There are 4 places to win, 1st, 2nd, 3rd, AND honorable mention. ALL of these places can have their items made!
You may enter this contest
one
time.
Create your Fairy theme items here!
-Entries-
- Seraphina
Dress-Up Contests
Rules
-
One
entry per theme!
- The dress-up contests end on the 20th! Judging will begin once the contest is closed and winners will be announced a few days after.
HOW TO SAVE
Click the save box before submitting your message and your outfit AND pose will be saved! Just announce that the post is "Entry for --- Contest!" adding which contest to the sentence.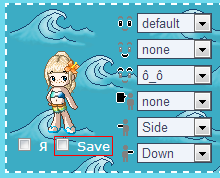 April showers make Rainbows!
That's right! The rainbow theme is pretty open field, anything goes!
-Entries-
- Alerano
- SaraLove
- ~~~ -
April showers bring May Flowers
Where there is flowers there is flower fairies! Display your floweriest fairy style!
-Entries-
- SaraLove
- Lynn727
- ~~~ -
Easter Bunny Style
Show off how YOU'D rock Easter Bunny fashion!
-Entries-
- SaraLove
- Lynn727
- ~~¢¾~~ -
Last changed:
July 8, 2014 by Karin
Can be edited by:
authors only
|<
Viewing 9 - 23 of 23