Summer Contest 2013
Show off your summer swag! (Contests)

Looks like it's about time to beat the heat and have some fun this summer on CPDD!
- ~~~ -
Rules
~ Only enter twice per subject (that means 2 entries for sunrise and 2 entries for sunset)
~
Remember to save your avatar with your post!
~ This contest ends on the
25th of August
- ~~~ -
HOW TO SAVE YOUR AVATAR
The lovely and talented Karin has added a new feature that allows you to save your avatar with your post!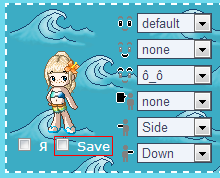 All you have to do is click that button and post saying what contest your entering and now you will have an official entry!
- ~~~ -
Don't be shy about showing off your beach body for this contest! Dazzle us with your best
bathing suit
!
Entries
SaraLove
- ~~~ -
One of the best things about summer in our opinion is, without a doubt, the beautiful
sunrises and sunsets
. If you agree, show us your best imitations of the sky!
Entries
none yet!
- ~~~ -
Wiki title:
Summer Contest 2013
Can be edited by:
authors only
|<
Viewing 30 - 44 of 44